Another new NHS Supply Chain listing!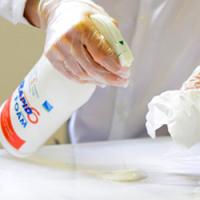 As part of our ever lengthening list of products available on the NHS Supply Chain, we're now happy to include sporicidal Rapid 6 Foam!
Available as a 1 Litre foaming trigger spray, Rapid 6 Foam is our powerful, water-based, sporicidal foam for the safe and effective every day cleaning and disinfection of hard surfaces.
For further information on Rapid 6 Foam please click here or to see our full list of products available from the NHS Supply Chain, click here.