Alcohol & Taint Free Food Probe Wipes AntiBak Wipes FG - A 10 Year Success Story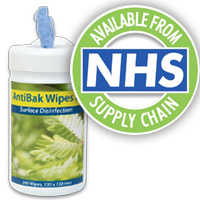 We are celebrating! This month marks 10 years of successfully supplying our alcohol free food probe wipes to the UK National Health Service (NHS).
Why is there a need for food probe wipes?
Health sector clients are particularly vulnerable to food-borne bacteria. As part of risk management, food served to Hospital wards is always temperature checked before serving. This is done by inserting a temperature probe.
After application the temperature probe is wiped clean with an approved sanitising wipe to avoid cross contamination.
Food Probe Wipes are also used to clean and sanitise patient food trays.
Alcohol Food Wipes are traditionally used... but Alcohol Wipes are food tainting.
Why have we been a trusted supply source to the NHS for so long?
For many reasons:
Because we introduced a much safer technology.
Because AntiBak Wipes FG have been tested and shown to be as effective against bacteria as alcohol wipes
Because Antibak Wipes FG Wipes are water based - completely alcohol free!
But most importantly... because our wipes have been tested by an independent Food Research Laboratory and shown to be non-food tainting.
For further information on AntiBak Wipes FG including test approvals, click here.
Posted by David Evans, 22nd March 2016