Ebola - Frequently Asked Questions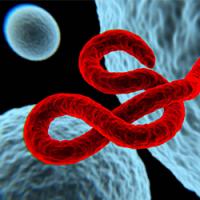 What is Ebola?
Ebola is a virus that can be spread through contact with blood and bodily fluids.  If left untreated Ebola virus is a serious, often fatal disease which can have mortality rates as high as up to 90%.
The current outbreak of Ebola is centred around three countries in West Africa: Liberia, Guinea and Sierra Leone.  For people living in countries outside Africa, it continues to be a very low threat.
Useful document for more information: NHS Ebola page
How is Ebola spread?
Unlike other viruses such as flu, the ebola virus is not airborne. Ebola can only be spread by direct human-to-human transmission via contact with the blood, secretions, organs or other bodily fluids of infectious people; and with surfaces and materials contaminated with these fluids.
Outside of the body, the Ebola virus can survive for 1-2 days. People most at risk form the virus are anyone in direct contact with an infected person, for example health workers and family members.
Useful document for more information: WHO factsheet
How can you help control the spread of Ebola?
Good outbreak control should focus on several factors:
Reducing the risk of wildlife-to-human transmission
Reducing the risk of human-to-human transmission– from direct or close contact with Ebola suffers and by:

Isolating the infected person
Regular hand washing and hand hygiene – in hospitals and at home
Correct PPE (Personal Protective Equipment)

Outbreak containment measures:

Importance of separating the healthy from the sick
Importance of good hygiene
Importance of maintaining a clean environment and using infection control products
Useful document for more information: WHO factsheet
Recommendations for decontaminating surfaces
Ebola is an enveloped virus and as such is susceptible to a broad range of hospital hard surface disinfectants.  However, as a precaution the USA Centres for Disease Control recommend that when selecting a product to tackle Ebola, a higher level disinfectant should be selected – one that has claims against non-enveloped viruses, which are much harder to kill.  Therefore, you should be looking for a product that is effective against:
Norovirus
Rotavirus
Adenovirus
Poliovirus
The reason for this is that these products are effective against both enveloped and non-enveloped viruses.
Useful document for more information: USA CDC article
What can Bio Technics offer?
Hard surface disinfection: AntiBak Powder
AntiBak Powder has been tested and shown to be effective against non-enveloped viruses, as recommended by the USA CDC (i.e. Norovirus, Rotavirus, Adenovirus and Poliovirus).
A High Level Disinfectant tested to international standards and shown to be effective against viruses, fungi, bacteria, mycobacteria and spores - one 50g sachet of AntiBak Powder makes 5 Litres of disinfectant – ideal for general purpose disinfection of hard surfaces.
Also, due to its concentrated form, you have dramatically reduced transport charges -  one box of 300 sachets makes 1500L of disinfection liquid!
Disinfection of footwear and vehicle tyres: AntiBak Disinfection Mats
Designed for use with solutions of AntiBak Powder and available in three sizes, our range of Disinfectant Mats are the practical solution to the disinfection of footwear and vehicles.
AntiBak Disinfection Mats, in combination with AntiBak Powder are the ideal biosecurity and infection control measure.
Hand Hygiene: Enduro Hand Disinfectant
It is recommended that Ebola is best 'cleaned' from hands by the use of soap and hot water as regular use of soap and water will decrease the viral counts to a point below the infectious threshold.
It is important to perform hand hygiene measures before and after using gloves and PPE and/or any exposure to blood, bodily fluids and contaminated surfaces.
For cleaning hands in a medical environment, when access to soap and clean water is not possible, the World Health Organisation (WHO) and similar bodies recommend the use of waterless alcohol (+60%).
However, we offer an alcohol free alternative to IPA sanitisers – Enduro Hand Disinfectant.
Enduro Hand Disinfectant is a high performance, water-based & alcohol free hand and skin disinfectant.  Independently tested and shown to be effective against spores, bacteria, fungi, mycobacteria and H1N1 Swine Flu, Enduro Hand Disinfectant has been dermatologically tested and shown to offer residual antimicrobial action 4 hours after application.
Spill Control: General Purpose Absorbent Pads
A combination of strength and absorbency – pads that are ideal for quickly absorbing liquids, including blood, bodily fluids and water-based disinfectant run off etc.
In addition to the above products, we also supply a comprehensive range of infection control and disinfection products including:
For further information on any of these products or if you have any questions, please don't hesitate to contact Us.
Posted by Hannah Evans, 29th October 2014