HOFEX Exhibition, Hong Kong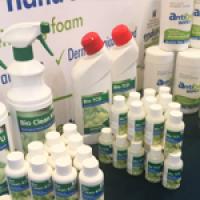 We had a very successful exhibition at this year's HOFEX - Asia's Leading Food & Hospitality Tradeshow in Hong Kong.
Alongside our Endurocide Infection Control products, this was the first time we introduced our ranges of Food, Catering & Janitorial Cleaning to Asia.
Our AntiBak Tablets with their simple, safe disinfection power guaranteed in correct dilution dosages went down a storm.  Also, our biological Simply Bio Range was a winner, with its tough cleaning action and no hazardous labeling.
If you would like to find out when we are at an exhibition near you, please feel free to contact me.