Latest products and innovations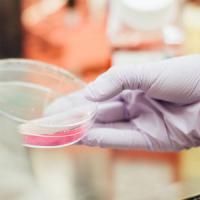 We never stand still! As well as developing new products we continually look at how we can evolve existing products and services to the benefit of our valued customers.
---
Printed Hospital Curtains
This is a new range of curtains that offer a bright and colourful alternative to conventional single coloured curtains. See the full range here.
---
Double Pleat Feature
Endurocide® Antimicrobial & Sporicidal curtains are available with a double pleat at the front, providing increased durability to our patented Antimicrobial & Sporicidal Curtains.  This new addition is important when considering the Curtains are designed to be hung for extended periods, as demonstrated in the successful 2-year independent trial conducted at Monash Hospital, Australia and published in the American Journal of Infection Control. Read the full article here.
---
Mesh Cut Hospital Curtain
Our new Mesh Cut Curtain offers an alternative to our traditional Long Drop & Mesh Top Curtains.  The Mesh Cut Curtain features an attractive hexagonal cut out on the upper section of the curtain, ideal for letting light into wards which use ceiling hung curtains.  This new cost-effective Curtain offers a fully Antimicrobial & Sporicidal solution, made entirely from treated polypropylene with no separate mesh section. 
Please note: these Mesh Cut Curtains are not suitable for use in wards that require mesh for sprinkler access.
---
Metal-bar, Wide-Wheeled Curtain Hook
Similar in appearance to our Wide-Wheeled Hook but now includes a metal axle pin and fixed wheels that can't be removed, providing a very robust and reliable curtain hook.