Endurocide® Printed Curtains Now Available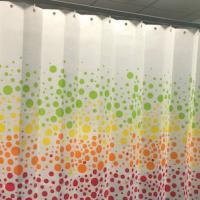 The newly launched Endurocide® Printed Curtains are making an appearance at the Australian College for Infection Prevention and Control Conference in Brisbane, 19 – 21 November 2018.
The printed hospital curtains are available in two designs – 'Simply Dotty' which is a visually bright and colourful disposable, untreated curtain, ideal for use in children's wards and 'Geometry' which comes in a variety of colour schemes and is both sporicidal and antimicrobial. The treated hospital curtains are impregnated with a patented liquid formulation leaving them with the ability to trap and kill harmful pathogens on the surface of the fabric, therefore breaking the chain of infection.
The new curtains expand the Endurocide® Hospital Curtain Range and provide the healthcare sector with an even wider choice of disposable hospital curtains. 
SEE THE FULL RANGE OF PRINTED HOSPITAL CURTAINS 
If you would like to receive samples of any of our curtains, please get in touch, we will be delighted to hear from you.