Alcohol vs Alcohol-FREE Hand Sanitisers – helping you choose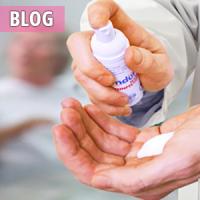 Alcohol Based vs Alcohol Free Hand Sanitisers
Reading time: less than 3 minutes
Hand sanitisers are a vital tool within an infection control program, but with so many hand hygiene products available on the market, it can be difficult to know which type of hand sanitiser or disinfectant is best for your needs.
Often the simplest distinction between the two product types is that one contains alcohol and the other is alcohol-free. However, there are other key points to consider when choosing your hand sanitiser:
Alcohol Based Hand Sanitisers
Alcohol products have been shown to strip away the skin's natural sebum and lipids which are there to protect the surface of the skin. This can lead to dryness, dermatitis, and in some cases, bacterial infections.(1)

There tends to be less variance between brands as the formulations tend not to differ greatly.

Alcohol provides quick kill rates, but it also evaporates quickly once on the skin, meaning most alcohol products cannot offer residual antimicrobial protection.

There is a risk of alcohol poisoning if consumed, but generally alcohol sanitisers are considered safe when used as directed.

Alcohol is only effective against a limited number of pathogens, and does not kill spores such as C.difficile.

Alcohol sanitisers can present a fire risk / hazard and should be stored in a safe manner accordingly.
Alcohol-Free Foaming Hand Sanitisers
This type of hand sanitiser is generally kinder to the skin as it contains emollients designed to moisturise the skin. This is ideal if you work in the healthcare sector where the product needs to be used on a regular basis throughout the day.
Alcohol sanitisers are generally accepted as not being suitable for use against spores, such as C.difficile,  whereas certain water-based sanitisers have been proven for use against a wide range of pathogens, including spores.
Alcohol-free hand sanitisers can often be more cost effective as they usually use a measured foaming mechanism which often provides more applications per bottle.
The antimicrobial compounds used in some alcohol-free sanitisers can offer residual antimicrobial activity for up to 4 hours after application.

Alcohol-free

 hand sanitisers are gaining in popularity in healthcare settings.
Alcohol-free sanitisers are suitable for use for all groups, including those who avoid alcohol for religious or personal reasons.
Do not stain surfaces or clothing.
Require no special storage provision.
---
The solution
The Endurocide® range of Hand Hygiene products are all water based, alcohol-free and have been tested to a range of applicable International Standards and proven to be effective against a wide range of pathogens including spores, bacteria, fungi and enveloped viruses.
To arrange a trial of our Alcohol-free Hand & Skin range, or discuss how our products can meet your needs, please contact us today:
---
Reviewed: 29/08/2018 and 19/06/2020
---
Disclaimer:
Whilst every effort has been made to ensure the information presented above was correct at time of publication, Bio Technics Ltd., does not assume any liability to any party for any errors or omissions. The above information is supplied for guidance only and is without guarantee. Any opinions expressed in this document are not necessarily those of Bio Technics Ltd. and are not for onward publication without consent.