New wall dispenser for use in Mental Health Hospitals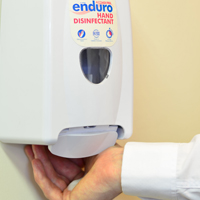 We are pleased to announce that we now have a 1000ml pouch-fill wall dispenser that has been passed as suitable for use within the Mental Health trusts and other Institutions!
This announcement is the result of us working very closely with our dispenser manufacturer to design a dispenser which would pass the rigorous testing procedures imposed by Mental Health hospitals.
The Institutional Dispenser is specially manufactured from non-shardable ABS plastic and uses no metal parts.
As you may know, Mental Health hospitals and other Secure Institutions are very cautious about implementing any new system on their premises, for fear that it could be used to cause harm to their patients, staff or patrons.
The testing of our dispenser was conducted at a major Mental Health Hospital in England and our dispenser was passed by their internal security department as suitable for use.
This good news means that we can now offer a safe dispensing solution for our alcohol free Enduro Hand Disinfectant to Mental Health hospitals, secure units/hospitals and prisons.
For more information about this article, please contact us.
Posted by Angus Kennedy, 1st August 2014