Are alcohol-based hand sanitisers the only option?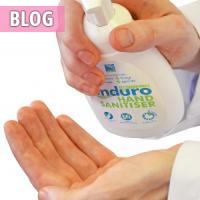 Alcohol vs alcohol-free hand sanitiser
It is well accepted that a key factor in effective Infection Control in medical settings is Hand Hygiene:
"Clean hands protect against infection"
World Health Organization
"Regular and effective hand hygiene is the single-most important thing 
you can do to protect yourself and others from infection".
Royal College of Nursing
In the hospital and healthcare environment, alcohol-based hand sanitisers have long been adopted as a trusted and effective methods for maintaining hand hygiene. However, repetitive use of alcohol-based hand sanitising products can dry the skin and cause irritation in healthcare professionals. In some cases, continual use can cause significant irritation to the point where skin becomes inflamed and broken.  This damage is not only painful for users but broken skin can become a vehicle for pathogenic transmission in hospitals. 
Is alcohol-based hand sanitiser the only solution?
Alcohol & soaps are no longer the only ways to clean hands, there is the option of Alcohol-free Hand Sanitisers, such as Enduro Hand Sanitiser and Enduro Hand Disinfectant. 
User feedback on alcohol-free hand sanitiser
Nurse Lorraine G, who is based in a hospital in New Zealand, had been on a mission to find a hand sanitising product that did not cause her dermatitis or palmar psoriasis to flare up. She was delighted to find that our Enduro Hand Sanitiser, manufactured in Scotland by Bio Technics Limited, ticked all the boxes.
Lorraine commented, "I have definitely found Enduro Hand Sanitiser not to cause my dermatitis or palmar psoriasis to flare up. I am totally blown away by the fantastic service and my hands are over the moon". 
Other users of the product also report back how it dries quickly and doesn't leave a sticky residue, something that is really important if you have to apply the product multiple times a day.
Is alcohol-free hand sanitiser effective? 
Enduro Hand Sanitiser kills spores, bacteria, fungi and enveloped viruses with 60 second kill rates against bacteria and fungi and is proven to be residually active against bacteria for up to 4 hours after application. It has been extensively tested to International Standards including EN 1276, EN 14561, EN 1650, EN 13704 and screen tested to EN 14476: see details of the International Standards testing.
Costs of alcohol vs. alcohol-free hand sanitisers
When making a cost comparison, volume for volume alcohol-based products initially appear cheaper, but there are some considerations that need to be factored into any cost comparisons:
Enduro Hand Sanitiser is a foaming product you get 120+ applications from only 50ml. In comparison, from an alcohol-based gel, you'll only get around 15 - 30 applications from the same volume (assuming you use between 1.75ml and 3ml for each application).
It is important to consider the whole-life costs, including the user's skin type and whether they are likely to have adverse skin reactions to the product etc.  All of this has hidden cost implications that can result from loss of user time, or increased risk of pathogenic transmission from dermatitis or decreased use of product due to irritation etc.
We believe the key to good hand hygiene is providing products that are not only effective but suitable for use across a wide range of skin types – providing customers with a variety of choice.
Try out our alcohol-free Enduro Hand Sanitiser
We regularly conduct trials of our products within the healthcare industry and food processing sectors. If you would like to be involved in testing any of our products, then we would be delighted to hear from you: