Endurocide® Curtains are at the forefront in the global fight against COVID-19 in Singapore & South Africa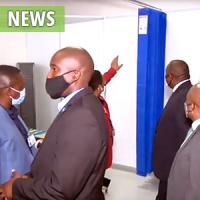 Singapore
Endurocide® Antimicrobial Plus Curtains have been installed in the Expo Convention Hall in Singapore. The Curtain's tested and proven performance means that the curtain acts as a passive infection prevention device – trapping and killing pathogens on its surface. Furthermore, because of this action there is no need for a curtain change out when a patient leaves the ward or when a new patient comes in.
The Ministry of Health took the decision to convert the Hall to house patients who have tested positive, but don't have serious symptoms requiring urgent medical care, consequently freeing up hospital capacity for those most in need.
This remarkable transformation to a capacity of 480 beds, was achieved in only 5 days by various groups working in collaboration around the clock. Work has continued on other halls within the facility and the capacity is now nearing the 5000 mark.
South Africa
Endurocide Antimicrobial Plus Curtains are installed in Covid ICU wards that have been established in strategic locations in South Africa to treat Covid patients.
The image shows South African President Cyril Ramaphosa touring one of the many ICU wards established across South Africa which are using our Endurocide® Curtains.
Independent testing was also conducted on the curtains after they had been used in these facilities and the resulting tests demonstrated that there was no trace of Covid-19 on the curtains.
---
Next steps...
 
---
Images 
Singapore: Copyright - Surbana Jurong Private Limited

South Africa: Copyright - Ministry of Health, South Africa