Endurocide® Curtains are available on the UK's NHS Supply Chain for 9th consecutive year!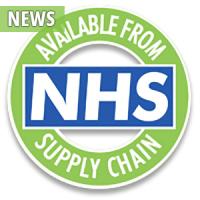 If you purchase any of our Endurocide® Curtains from the NHS Supply Chain, we would like to inform you of forthcoming changes to the types which will be available from October.
A new framework for the supply of curtains will be going live on 4th October. This will see several changes to the lines we supply to the NHS: most have been retained, some new lines have been introduced and others have been discontinued: full details of these changes are outlined below.
The most significant change is, after the 4th October, Full Width (7.5m) Endurocide® Antimicrobial & Sporicidal Curtains will no longer be available to purchase from NHS SC. To maintain your stock of full width curtains, we would recommend placing your orders as soon as possible.
After this date, our full range of curtains will still be available to purchase direct from us – for further information please see the Curtains section on our website or request a quote online.
Thank you for your custom and please don't hesitate to get in touch if you have any questions.
---
  1: New Lines


  Endurocide® Antimicrobial & Sporicidal Curtains


  TYPE

WIDTH

HEIGHT

HANGING SYSTEM

COLOUR

PART CODE

NHS SC CODE


  Cubicle Curtain
3.75m
2.0m
Large-Top hooks
Medical Blue
SC-FW-LT-MB
MVN1408
  Cubicle Curtain
3.75m
2.0m
Large-Top hooks
Pastel Green
SC-FW-LT-PG
MVN1409
 
 
 
 
 
 
 
  Endurocide® Printed Antimicrobial & Sporicidal Curtains


  TYPE

WIDTH

HEIGHT

HANGING SYSTEM

DESIGN

PART CODE

NHS SC CODE


  Cubicle Curtain
3.75m
2.0m
Large-Top hooks
Simply Dotty
SC-HW-LT-SDWH
MVN1412
  Window Curtain
3.75m
2.0m
Eyelet only
Simply Dotty
SC-FW-E-SDWH-W
MVN1423
 
 
 
 
 
 
 
---
  2: Retained Lines


  Endurocide® Antimicrobial & Sporicidal Curtains


  TYPE

WIDTH

HEIGHT

HANGING SYSTEM

COLOUR

PART CODE

NHS SC CODE


  Cubicle Curtain
3.75m
2.0m
Eyelet only
Medical Blue
SC-HW-E-MB
MVN722
  Cubicle Curtain
3.75m
2.0m
Eyelet only
Pastel Green
SC-HW-E-PG
MVN727
  Cubicle Curtain
3.75m
2.0m
Quick-Fit hooks
Medical Blue 
SC-HW-QF-MB
MVN723
  Cubicle Curtain
3.75m
2.0m
Quick-Fit hooks
Pastel Green 
SC-HW-QF-PG
MVN728
  Cubicle Curtain
3.75m
2.0m
U-Type hooks
Medical Blue 
SC-HW-U-MB
MVN725
  Cubicle Curtain
3.75m
2.0m
U-Type hooks
Pastel Green 
SC-HW-U-PG
MVN730
  Window Curtain
 3.75m
2.0m
 Eyelet only
Medical Blue
SC-HW-E-MB-W
MVN726
 
 
 
 
 
 
 
  Endurocide® Printed Antimicrobial & Sporicidal Curtains


  TYPE

WIDTH

HEIGHT

HANGING SYSTEM

DESIGN

PART CODE

NHS SC CODE


  Cubicle Curtain
3.75m
2.0m
Eyelet only
Simply Dotty
SC-HW-E-SDWH
MVN835
  Cubicle Curtain
3.75m
2.0m
Quick-Fit hooks
Simply Dotty
SC-HW-QF-SDWH
MVN837
  Cubicle Curtain
 3.75m
2.0m
 U-Type hooks
Simply Dotty
SC-HW-U-SDWH 
MVN839
 
 
 
 
 
 
 
  Endurocide® Untreated Curtains


  TYPE

WIDTH

HEIGHT

HANGING SYSTEM

COLOUR

PART CODE

NHS SC CODE


  Cubicle Curtain
7.5m
2.0m
Eyelet only
Medical Blue
UTC-FW-E-MB
MVN711
  Cubicle Curtain
7.5m
2.0m
Eyelet only
Pastel Blue
UTC-FW-E-PB
MVN745
  Cubicle Curtain
7.5m
2.0m
Eyelet only
Pastel Green
UTC-FW-E-PG
MVN712
  Cubicle Curtain
7.5m
2.0m
Eyelet only
Pastel Yellow
UTC-FW-E-PY
MVN713
  Cubicle Curtain
7.5m
2.0m
Quick-Fit hooks
Medical Blue
UTC-FW-QF-MB
MVN714
  Cubicle Curtain
7.5m
2.0m
Quick-Fit hooks
Pastel Blue
UTC-FW-QF-PB
MVN746
  Cubicle Curtain
7.5m
2.0m
Quick-Fit hooks
Pastel Green
UTC-FW-QF-PG
MVN715
  Cubicle Curtain
7.5m
2.0m
Quick-Fit hooks
 Pastel Yellow
UTC-FW-QF-PY
MVN716
  Cubicle Curtain
7.5m
2.0m
U-Type hooks
Medical Blue
UTC-FW-U-MB
MVN732
  Cubicle Curtain
7.5m
2.0m
U-Type hooks
 Pastel Green
UTC-FW-U-PG
MVN737
  Cubicle Curtain
3.75m
2.0m
Eyelet only 
Medical Blue 
UTC-HW-E-MB
MVN719
  Cubicle Curtain
3.75m
2.0m
Eyelet only 
Pastel Green 
UTC-HW-E-PG
MVN718
  Cubicle Curtain
3.75m
2.0m
Quick-Fit hooks 
Medical Blue 
UTC-HW-QF-MB
MVN720
  Cubicle Curtain
3.75m
2.0m
Quick-Fit hooks 
Pastel Green 
UTC-HW-QF-PG
MVN721
  Cubicle Curtain
3.75m
2.0m
U-Type hooks
Medical Blue 
UTC-HW-U-MB
MVN733
  Cubicle Curtain
3.75m
2.0m
U-Type hooks
Pastel Green 
UTC-HW-U-PG
MVN739
  Cubicle Curtain
3.75m
2.0m
 U-Type hooks
Pastel Yellow 
UTC-HW-U-PY
MVN740
  Window Curtain
3.75m
2.0m
 Eyelet only
Medical Blue 
UTC-HW-E-MB-W
MVN734
  Window Curtain
3.75m
2.0m
 Eyelet only
Pastel Yellow 
UTC-HW-E-PG-W
MVN742
 
 
 
 
 
 
 

---
  3: Discontinued Lines


  Endurocide® Antimicrobial & Sporicidal Curtains


  TYPE

WIDTH

HEIGHT

HANGING SYSTEM

COLOUR

PART CODE

NHS SC CODE


  Cubicle Curtain
7.5m
2.0m
Eyelet only
Medical Blue
SC-FW-E-MB
MVN475
  Cubicle Curtain
7.5m
2.0m
Eyelet only
Pastel Green
SC-FW-E-PG
MVN476
  Cubicle Curtain
7.5m
2.0m
Quick-Fit hooks
Medical Blue 
SC-FW-QF-MB
MVN473
  Cubicle Curtain
7.5m
2.0m
Quick-Fit hooks
Pastel Green 
SC-FW-QF-PG
MVN474
  Cubicle Curtain
7.5m
2.0m
U-Type hooks
Medical Blue 
SC-FW-U-MB
MVN724
  Cubicle Curtain
7.5m
2.0m
U-Type hooks
Pastel Green 
SC-FW-U-PG
MVN729
 
 
 
 
 
 
 
  Endurocide® Printed Antimicrobial & Sporicidal Curtains


  TYPE

WIDTH

HEIGHT

HANGING SYSTEM

DESIGN

PART CODE

NHS SC CODE


  Cubicle Curtain
7.5m
2.0m
Eyelet only
Simply Dotty
SC-FW-E-SDWH
MVN834
  Cubicle Curtain
7.5m
2.0m
Quick-Fit hooks
Simply Dotty
SC-FW-QF-SDWH
MVN836
  Cubicle Curtain
7.5m
2.0m
U-Type hooks
Simply Dotty
SC-FW-U-SDWH
MVN838
 
 
 
 
 
 
 
---