Are Hand Sanitisers safe for Children?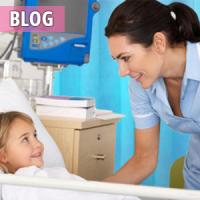 Hand sanitisers and disinfectants are increasingly becoming a commonly used item in the home which is great for managing bugs and hand hygiene outside of medical settings. However, it's always worth remembering that these products should be treated with caution around children.
If ingested, hand sanitisers can be harmful even to adults.  For example, with Alcohol-based hand sanitisers just a couple of mouthfuls can be enough to cause alcohol-poisoning in children.(1) Most Alcohol-based sanitisers contain upwards of 60% alcohol content. To put this in context, the average ABV (Alcohol by Volume) for:
Beer is around 4-5%,
Wine is around 12%,
Spirits are usually around 35-40%.
This means that just a small bottle of alcohol based sanitiser could be equivalent to as many as 4 or 5 measures of a high ABV spirit such as whisky.
Alcohol-free sanitisers obviously don't contain any alcohol, but they do contain other substances which have been designed to achieve similar biocidal results as alcohol. These substances can also be harmful if ingested.
Should I stop using hand sanitisers on my children?
Whilst it's generally safe to use hand sanitisers on children (always check with your pharmacist or GP if you're not 100% sure and make sure to read the directions on the packaging) you should take some extra precautions to ensure your little ones are safe.
Treat your hand sanitiser like a medicine – this means keeping it well out of reach in a cupboard, as those brightly coloured little bottles can look quite appealing!

Always supervise your child when using sanitiser

Avoid fragranced products - especially any that have a sweet smell as this might tempt a child to lick their hands after application.

Only use a pea-sized amount of the sanitiser

If using on an infant or toddler, rub their hands between yours until they are completely dry, or, for an older child, supervise them until their hands are completely dry

If you think a child has ingested any amount of hand sanitiser, seek medical advice immediately
It's also worth noting that if you're using sanitising wipes rather than a liquid, the same precautions apply. Make sure that you don't leave any wipes on a table or counter as your child might be tempted to suck on them and this could lead to ingestion of the chemicals used on the wipes
What about Enduro Hand Sanitiser?
Whilst all the general precautions and advice listed above still applies, Enduro Hand Sanitiser has been designed to offer protection from germs, whilst still being kind to skin and is:
Alcohol Free
Free from PHMB, parabens, sulfates and synthetic dyes
Fragrance free
Uses emollients for skin moisturising properties
96 hour dermatologically tested
Not tested on animals
For more information on our Hand & Skin Ranges, please click here.
---
Use biocides safely. Always read the label and product information before use.
---
Disclaimer:
Whilst every effort has been made to ensure the information presented above was correct at time of publication, Bio Technics Ltd., does not assume any liability to any party for any errors or omissions. The above information is supplied for guidance only and is without guarantee. Any opinions expressed in this document are not necessarily those of Bio Technics Ltd. and are not for onward publication without consent.