Keeping you up-to-date on the BPR process...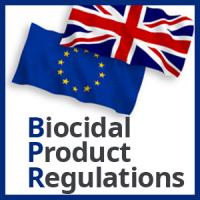 The purpose of the BPR:
The Biocidal Products Regulation (BPR) in both the EU and GB aims to harmonise the biocidal market and the use of biocidal products for the protection of humans, animals, materials or articles against harmful organisms like pests or bacteria.  As such, the BPR's function is to improve the free movement of biocidal products within Europe & the UK, whilst ensuring a high level of protection to humans, animals and the wider environment. 
The process of the BPR:
In Europe, the BPR, under Regulation (EU) 528/2012 was introduced in 2012 to replace the previous monitoring system called the Biocidal Products Directive (BPD). 
The EU BPR requires that all biocidal products are approved at a National or Union level before being placed on the European market.  However, there are some exceptions to this rule, such as, if your biocidal product has an active substance which is still being reviewed.  In this example, the finished product is still able to be sold & used in the market, pending a final decision of the approval of the active substance(s) and in some cases for up to 3 years after the decision (subject to national laws). 
What are the differences between the EU BPR & GB BPR?
As a result of Brexit and following the end of the transition period on the 31st December 2020, Great Britain is no longer a part of the EU scheme for regulating biocides.
The existing EU Biocidal Products Regulation (EU BPR) was copied into British law and amended to enable it to operate effectively in Great Britain (excluding Northern Ireland). This means that most aspects of EU BPR will continue in the same way under the new stand-alone regime - the GB Biocidal Products Regulation (GB BPR).
For manufacturers such as Bio Technics, if we want to be able to sell our biocidal products across Europe, including Great Britain we now need to submit product dossiers under both regulations.  However, because of the separation of regulations, to only sell in Great Britain, you no longer need to apply via the EU BPR process.  The one exception to this is that if you want to sell biocidal products in Northern Ireland, you must be registered via the EU BPR system.
The principal difference between the two systems is that GB will now take all its own decisions and will no longer participate in any of the EU decision making.  It will also no longer participate in the sharing of information between EU States, the EEA and Switzerland and will therefore no longer have access to these EU systems.  This means it cannot gain access to information previously submitted under these systems (unless publicly available).
In practical terms, this means that the GB BPR has developed its own review programme and timeline and unless your EU BPR application was either complete, or partially evaluated before the 1st January 2021, your application will not be considered valid under GB BPR and a new application will be required to be submitted.
Understandably, as a result of this, the GB BPR is running significantly behind the current expected completion timeline of the EU BPR.
Article 95:
To promote fair competition, both the EU BPR & GB BPR have a list called Article 95 which details all known active biocidal substances from around the world and gives details of suppliers for the active substance/product type combinations that can be used in biocidal products within the EU & GB.
As of September 2015, a biocidal product cannot be made available in the EU unless the substance/product supplier is included in the list for the product type(s) to which the product belongs.  However, exceptions apply in the EU for biocidal products where the active substance has not yet been validated by an EU member state.
In GB, if the active substance supplier is not on the GB Article 95 List, then the biocidal product containing that active substance cannot be made available on the GB market. 
| | |
| --- | --- |
|   | All the biocidal active substances used in Bio Technics' products are listed on both the EU & GB Article 95 lists.  |
Product Types:
Biocidal use in the BPR is defined by its application, in what is known as Product Type (PT) Classifications.  In total there are 22 PTs, for full details from ECHA (European Chemicals Agency) please click here.  The PTs that are applicable to Bio Technics' products are:
PT1: relates to biocides being used for Human Hygiene

The following products would come under PT1:

Endurocide DeskTop
Enduro Hand Sanitiser
Enduro Sanitising Wipes
PT2: relates to biocides used for disinfection of surfaces, materials, equipment and furniture which are not used for direct contact with food etc.  It also covers biocides to be incorporated into textiles and other articles or materials with the purpose of producing "treated articles" with disinfecting properties.

The following products would come under PT2:

AntiBak Powder
AntiBak Residual
AntiBak Tablets
Endurocide® Antimicrobial & Sporicidal Curtains
Endurocide Virucidal
QFD
Rapid 6
PT4: relates to biocides used for disinfection of food areas, including, equipment, surfaces, pipework, storage areas etc.

The following products would come under PT4:

AntiBak Powder
AntiBak Residual
AntiBak Tablets
QFD
Each PT has its own specific rules & regulations concerning the use of certain biocides, which is based on the application the product is to be used for. 
Where are we in the BPR registration process?
The BPR is a lengthy legislation process and as we are classed as a 'downstream' user (we blend and formulate substances together to create a new product/formulation), we are dependent on other parts of the process being completed before we can submit our applications.
The below gives you an overview of the process and timescales involved:
(Please note that all timelines are given as estimations only at this stage and are subject to change).
Implications for our customers:
At the moment nothing changes in terms of selling our products in Great Britain, Northern Ireland or the wider European Union.
All our biocidal raw materials are listed on the respective Article 95 lists and are awaiting opinions being listed by the Biocidal Products Committees.  Once we reach this stage for all our products or product families, we will have approximately 2 years to submit our Product Dossiers.  During this stage we can continue to sell our products in the territories as normal.
Please be assured that we are monitoring this process very closely.  We are working with experts in the field of the BPR and are preparing all documentation that we can in advance of any decision being awarded by either the EU or GB BPR.
When we reach milestones within the process that will have either a positive or negative impact on the sale of our products within a territory we will update all customers directly.
In the meantime, if you have any questions, or would like to speak to our Technical Team about anything to do with the BPR process, please contact us:
---
 Sources:
---
Disclaimer:
Every effort has been made to ensure that the information presented in this article was correct at the time of publication.  Bio Technics Ltd does not assume and hereby disclaims any liability to any party for any loss, damage, or disruption caused by errors or omissions in this article, whether such errors or omissions result from negligence, accident, mistranslation, or any other cause.  The data supplied is for guidance purposes only and is therefore without guarantee.
Any opinions expressed in this article are not necessarily those of Bio Technics Ltd. and are not for onward publication without consent.