New NHS trial demonstrates impressive results for Enduro Hygiene Wipes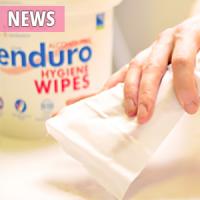 A recent NHS trial in the UK showed remarkable results is favour of Enduro Hygiene Wipes, with up to 98% elimination of bacterial growth on patients' hands after use and recommendations.
The trial compared the effectiveness of Enduro Hygiene Wipes in reducing bacterial loading (on patients hands before eating) against traditionally used Hand Detergent Wipes and the results were overwhelming in favour of Enduro Hygiene Wipes.
The report found:
"The complete elimination of bacterial growth was detected in those areas utilising the Enduro Wipe"
Across the trial as a whole:
"Enduro Wipes achieved an 87% eradication rate (of bacterial growth) compared with 13% for the detergent wipes"
The report also recommended that the use of detergent wipes should be restricted or removed from patient care areas in favour of Enduro Hygiene Wipes.
---
The reason Enduro Hygiene Wipes are preferred
Quick drying and long lasting, Enduro Hygiene Wipes leave a patient's skin clean, refreshed and naturally moisturised and also offer residual antimicrobial activity for up to 4 hours after application. They are alcohol free, sporicidal and dermatologically tested.
Enduro Hygiene Wipes suitable for use as:
Hand wipes
Skin cleansing wipes
Bed bath wipes
Continence wipes
The formulation used in Enduro Hygiene Wipes has been tested in accordance with the following European Standards:
Spores to EN 13704 and EN 14347
Bacteria to EN 1500, EN 1499, EN 12791, prEN 12054, EN 1276, EN 13697, EN 13623, EN 13727 and EN 14561
Enveloped viruses to EN 14476
Fungi to EN 1650 and EN 1275 
Mycobacteria to EN 14348
 Dermatologically tested - passed 24 hour skin patch test
 Residuality test - against bacteria 4 hours after application
The range of Enduro products are manufactured in Aberdeen, Scotland under BSI Quality Management accredited standards.
David Evans, Managing Director
Hannah Evans, Business Development Manager
---
Image 1: NHS Hospital Advert